All Activities are depenent upon group involvement...
Past Activities Include :
Ladies Lunch Out on Tuesday
Bingo on Tuesday Night
Poker/pool Tournaments
Caravan Trips to local attractions
Potluck theme dinners
Ice Cream Social
Thursday morning Breakfast
Shuffleboard / Ping Pong Tournaments
Health topics,cooking exchanges, crafts/talents to share, etc.
Holiday Potlucks
New Year's Eve Party
SuperBowl Party
Exercise Programs
We hope that you are planning to spend the winter with us again in a quiet, peaceful atmosphere and enjoy the activities and still be close enough to the South Valley to take in all it has to offer as well.
Looking forward to seeing you soon! Call us today to reserve your spot.
(956) 381-1883 1feller@msn.com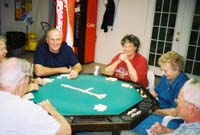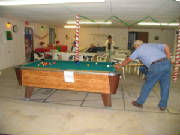 JIM CHUBB Memorial Pool Tournament